HypnoVR: what if an effective easy-to-use alternative, accessible to all, were to help to

reduce pain and stress?
From the admission of a patient until his discharge our solution supports the work of the medical teams and contributes to better organisation of services. Promoting less distressing, less painful treatment and faster recovery, HypnoVR is part of a global measure for the improvement in the quality of care. Our innovative approach is part of the dynamics of integrated medicine and surgery of the future.
HypnoVR also becomes involved in the issue of well-being at work. We offer experiences specifically designed for the relaxation and management of stress for medical care teams.
---
Pain, stress, anxiety: major issues for


all hospitals and clinics
The management of pain is every patient's right and a priority for every health structure. However, it comes up against both organisational difficulties and the handling of anxiolytic medication and anaesthetics. Despite advances in this field, 2/3 of hospital patients still experience pain during their stay and more than 1/3 of patients anaesthetised by medicated means experience adverse side effects or sometimes serious complications.
In addition, stress and anxiety are observed in 60 to 80% of hospital patients. When not anticipated and not managed, this increases the patient's lack of satisfaction, the consumption of medication, the risk of postoperative complications and the length of stay in hospital. An increasing number of hospitals and clinics are therefore having recourse to non-medicated solutions, such as ours, in order to relieve pain, stress and anxiety in their patients.
Hypnosis and virtual reality today represent one of the more promising therapies.
After many years of experiment and clinical research we have developed and validated our classification 1 medical device in

a number of areas of medical specialisation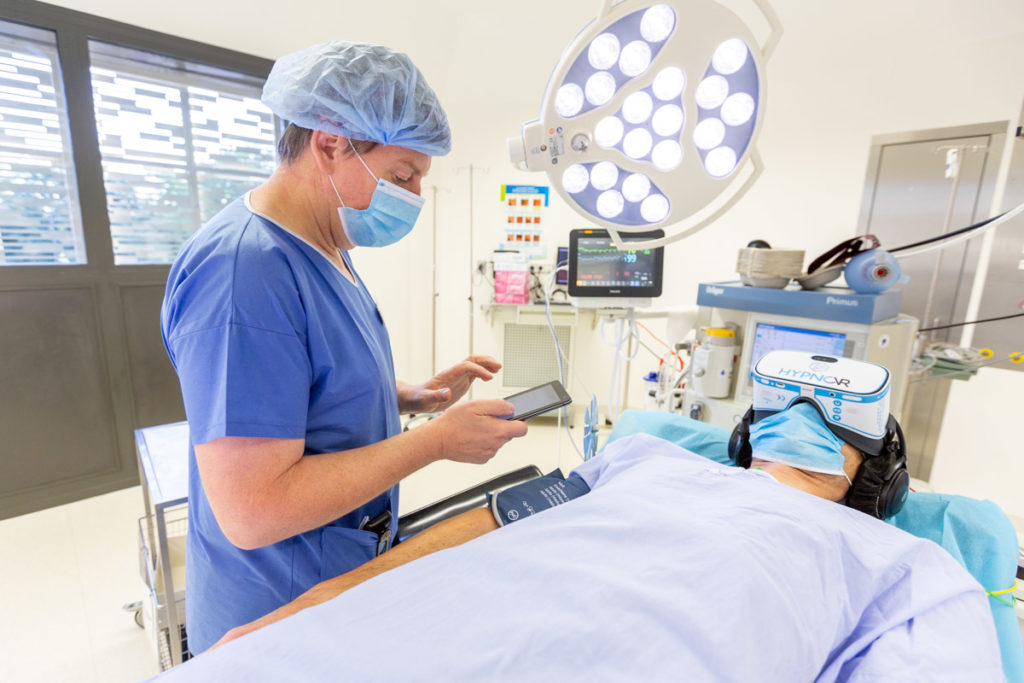 Join the trend!
More than 300 hospitals and clinics already use HypnoVR to improve the treatment experience for their patients.
Contact us
Hypno VR, a digital therapy with

proven efficacy
The therapeutic efficacy of HypnoVR is clinically proven. Our team of doctors undertakes intensive research in order to validate the benefits of our therapies for new uses.
HypnoVR is also ISO 13485 certified and guarantees a structured approach in its research and development, in order to provide a medical device, which complies most strictly with the regulations in force.
---
A unique solution for an innovative experience!
Simple to use and personalised, our solution is suitable for almost all medical procedures and maximises the patient's comfort.
Find out more